Pilgrim, the four tracks crossing the Landes are fully marked. Our reliable itineraries will take you to all the major sites and to the doorstep of all our gites and refuges. This section contains step-by-step guide (walking guide), map, list of gites and refuges and access conditions, an explanation of the sites crossed for the chosen route.

To welcome and inform the pilgrims:
AIRE SUR L'ADOUR: Saint Jean Baptiste Cathedral, from 15 April to 15 October, from 3 pm to 6 pm. Blessing at 6 pm.
DAX: Notre-Dame Cathedral, from March to the end of October, from 3 pm to 5 pm. The 2nd and 4th Thursday of the month.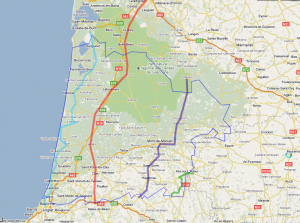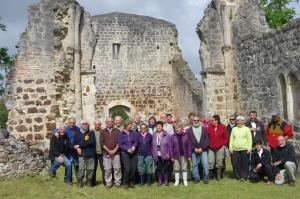 For you adherent, the agenda and the reports of the walks, outings and other events organized by the association. You will also be able to find and download the bi-monthly newsletter as well as documents detailing walks, outings or other events that are already appearing on the agenda or which will take place later. Finally, you will be able to follow closely our Castilian friends. So do not stop at this first page that does not bring you anything! Go on 'Life of the asso', you will have the news, the agenda, the reports of activities, etc ...
The Landes, the second largest department in France, with the largest forest in Europe (214 000 km2) and the longest coastline of the mainland France, is a country of many rich traditions: cultural heritage, Terroir, thermalism, sea and nature ... Tourism is one of its major resources. It is also crossed by three of the four historic routes of the Pilgrimage of Santiago de Compostela and by that of the Littoral.

For more information, please visit:
www.tourismelandes.com or www.qualitelandes.com